Ascend Technologies embodied the AI event of the year at Dreamforce 2023 for an inspirational week of Data + AI + CRM + Trust. Dreamforce was packed full of innovation, learning, and fun!

DAY 1
Day 1 was a blast as we started the day immersing ourselves in Dreamforce National Park! It's truly a magical experience, similar to Disney World or Disneyland, you have to experience it in person to really understand the amazement.
DREAMFORCE MAIN KEYNOTE
Salesforce CEO Marc Benioff energized everyone to pump up attendees. He shared the future of AI, data, and CRM. He emphasized how Salesforce is at the forefront of these advancements, with a particular focus on their new Einstein 1 Platform.
BUILD YOUR CUSTOMER 360 WITH TRUSTED AI
This session showcased the importance of AI in the current business landscape. It explored how to unlock the full power of data with AI, enabling the creation of AI-powered apps, and using automation to deploy AI safely all while understanding the critical role of trust in these processes.
INSURANCE CUSTOMER SERVICE IN THE AGE OF AI
Salesforce's targeted efforts toward service modernization are driving efficiency improvements within the insurance industry through the utilization of Einstein Generative AI. This strategic approach aims to mitigate the high costs associated with customer and agent acquisition. In fact, brokers and dealers using Salesforce saw a +30% case resolution from self-service, automation, and AI.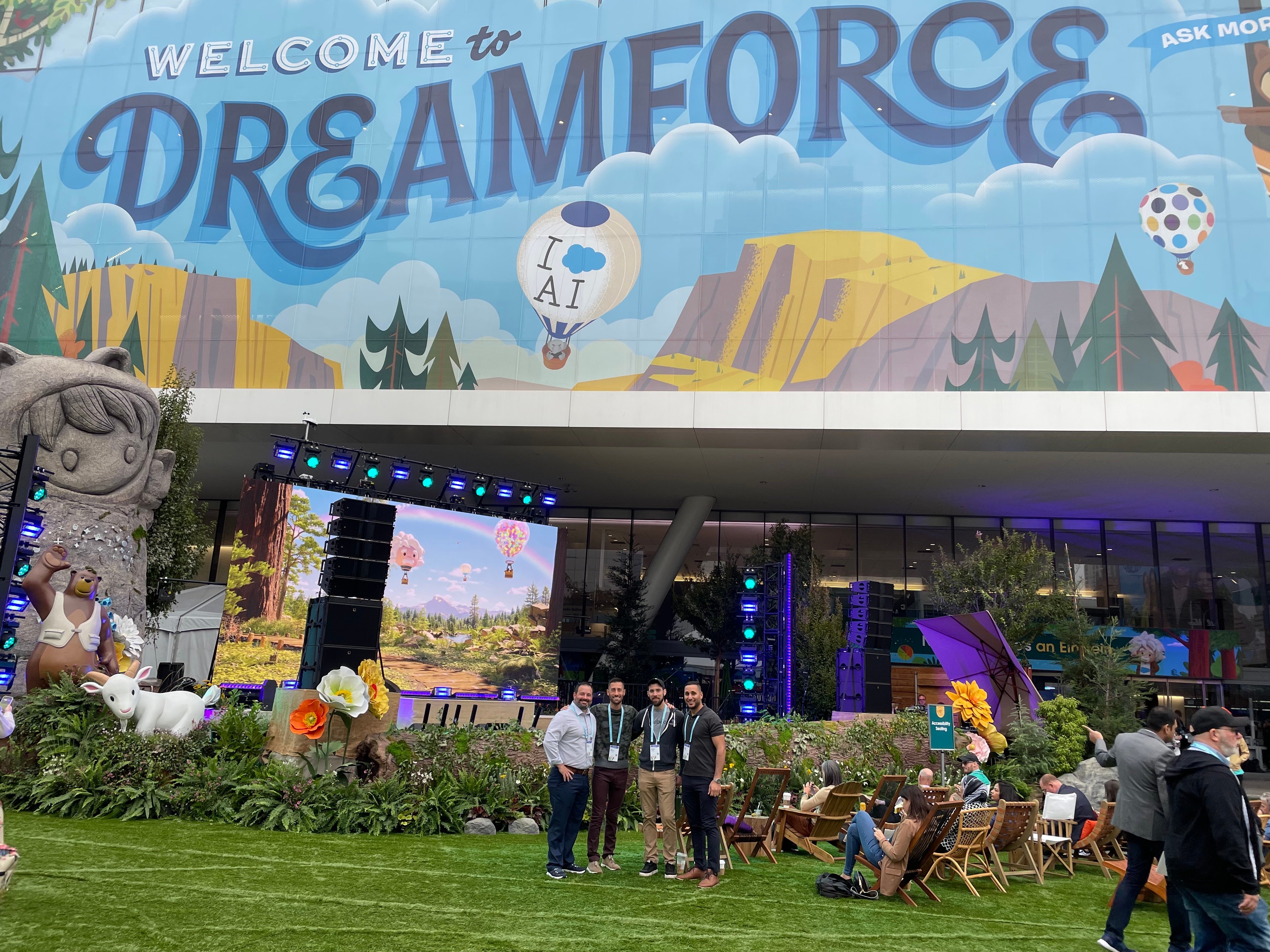 DAY 2
Day 2 began with slight jet lag, but that did not stop us from diving into another opportunity to harness the magic of Dreamforce and the power of AI.
SALES KEYNOTE: ACCELERATE SALES WITH TRUSTED AI FOR EVERYONE
Salesblazers saw how Sales Cloud is reinventing a new era of AI-powered selling with Einstein 1 Sales. This product boasts a single integrated platform to run sales organizations with innovation related to data and forecasting, supercharged selling experiences, and intelligent operations.
MARKETING IN GENERATIVE AI
As Generative AI is disrupting marketing everywhere, marketers must drive growth by innovating across the campaign lifecycle. Trailblazers showed how they are transforming marketing experiences across their business with Data + AI + CRM.
ASCEND CUSTOMER APPRECIATION COCKTAIL PARTY
We wrapped up Day Two, with our 7th annual Customer Appreciation Cocktail Party. Our customers connected with their industry peers, networked, and shared key learnings. Ascend values and loves celebrating our loyal customers as they are the foundation of our success.
DREAMFEST
Dreamfest did not disappoint with the Foo Fighters and Matthew McConaughey taking center stage at the Chase Center to close out Day Two at Dreamforce!

DAY 3
As the finale, Day 3 brought product roadmap announcements, a Shark Tank-style Dreampitch competition, and Winter '24 Release Readiness live at Dreamforce!
Developer Keynote: The Future of Development
The latest updates from Flow, Einstein GPT, and Scale Center will impact the future of development in the Salesforce platform.
Flow: Custom Error Messages improve error handling, ensuring more graceful error management, while Reactive Components enable dynamic and responsive updates of Flow screen elements.

Einstein GPT for Developers: Integrates your org's context and metadata, including custom objects and fields, into the language model. It offers content that understands object attributes and relationships relevant to your code, with a specific focus on Apex, distinguishing it from other language models.

Scale Center: Offers real-time feedback on your org's code, along with efficiency recommendations. It provides detailed insights into error frequency and process execution times, facilitating performance comparisons across different time periods or between peak and non-peak usage.

TOP DREAMFORCE ANNOUNCEMENTS
Einstein 1: Salesforce launched a new AI powered platform bridging data gap for a more robust connection to help improve productivity across your business.
Einstein Copilot: Salesforce revealed an AI- powered assistant to support users through natural language supporting them by solving administrative & development tasks.
Sales Cloud Unlimited+:

Powered by Sales Cloud, Salesforce is offering customers eight new built-in AI Solutions

Free Data Cloud & Tableau Licenses: Salesforce is offering free Data Cloud & Tableau licenses to all Sales and Service Cloud, Enterprise, or Unlimited edition customers.
TEAM UP WITH ASCEND
Ascend Technologies is a Salesforce consulting partner enabling business growth and innovation. As a Summit Salesforce Partner since 2009, we have completed 800+ successful projects and achieved a 4.9-star customer satisfaction rating.
Connect with us on LinkedIn, YouTube, Twitter, and Facebook. Looking for insight or assistance regarding your Salesforce platform? Schedule a consultation below!
Written by Brian Mamassian (Salesforce Consulting Advisor), Aihab Zaben (Salesforce Consulting Advisor), and Anthony Giuliano (Salesforce Administrator)