Trailblazers gathered in Chicago for Salesforce's summer event, Connections. Ascend Technologies was front row. Let's highlight CNX23 in just 3 minutes!
Salesforce Connections brought together marketers and customer-obsessed innovators for two full days of innovation and inspiration. This year at CNX23, Salesforce unveiled two generative AI solutions, Marketing GPT, and Commerce GPT (GPT stands for Generative Pre-trained Transformer). You're probably already interacting with GPT in some way without even knowing it!
"We agree that AI is here to help us and not replace us and that we're going to build the future that we want." – Sarah Franklin | President, Salesforce

BY THE NUMBERS
10,000

+

275

+

8

2

1

Industry Leaders
Engaging Sessions
Inspiring Keynotes
Days of Innovation

Legendary Concert
KEY ANNOUNCEMENTS AT CNX23
Salesforce unveiled Marketing GPT and Commerce GPT innovations! Both solutions combine generative AI with trusted, real-time data from Data Cloud, transforming how companies connect with their customers.
Marketing GPT: Marketers will be able to automatically generate personalized emails and campaigns, smarter audience segments, and marketing journeys.
Commerce GPT: Brands will be able to deliver personalized experiences and customized offers that adapt to their customers' needs, using GPT-powered dynamic buying journeys.
Google Cloud x Data Cloud Integration:

Salesforce and Google Cloud a

nnounced an expanded strategic partnership to unlock the power of AI, Data, and CRM.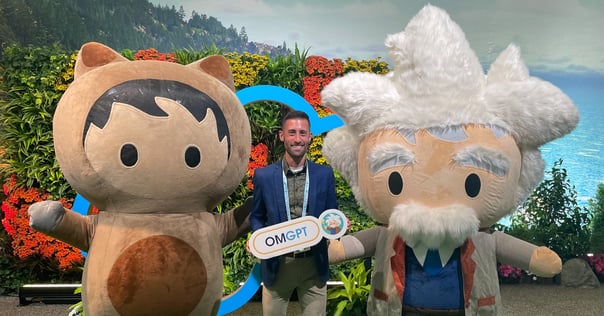 Salesforce Connections 2023 - Astro and Einstein #OMGPT
THE BIG PICTURE
Salesforce reports that generative AI is accelerating productivity and driving efficiency for businesses. Its potential is clear, with 60% of marketers saying generative AI will transform their role, and 71% reporting they believe it will enable them to focus on more strategic work. However, accuracy and quality are marketers' #1 concern, and 63% say trusted customer data is required for generative AI to work.
To make the most of the 275+ sessions at CNX23, Ascend used the Salesforce Events app to build a strategic agenda for which breakouts, hands-on workshops, keynotes, and theater sessions to attend.


TOP 5 HIGHLIGHTS FROM CNX23
MAIN KEYNOTES
PERSONALIZE SELF-SERVICE WITH REAL-TIME DATA & AI


With an interactive demo, Salesforce solution engineers showed how innovators deliver connected, scalable, and personalized self-service experiences that continuously exceed customer expectations.

Learn more on Salesforce+.

UNIFY MARKETING DATA FOR MAXIMUM IMPACT WITH INTELLIGENCE
THE POWER OF CONNECTION THROUGH STORYTELLING WITH DAN LEVY
CNX WRAP-UP PARTY

Ascend hosted a cocktail reception for customers and Salesforce. Guests joined to make connections and share their CNX insights and takeaways all while enjoying unparalleled views of Chicago. Thank you to everyone who joined Ascend and Salesforce on Thursday afternoon. We love to see familiar faces and meet new innovators!

Salesforce Connections 2023 Wrap Up Party - Vu Rooftop Bar
LOOKING AHEAD
CNX23 covered many new AI innovations and enhancements coming soon to the Salesforce platform! Ascend can help you determine which GPT capabilities can bring the biggest impact to your organization's strategic technology roadmap.
Here are some tips to get you started:
Share ideas with peers in the Trailblazer Community, on social channels, and with your network!
Stay close to the brands that inspire you to grow customer relationships with AI + Data + CRM.
Engage in conversations with your leadership and team members to explore which AI + Data + CRM innovations you'd like to learn more about.
TEAM UP WITH ASCEND
Ascend Technologies is a Salesforce consulting partner enabling business growth and innovation. As a Summit Salesforce Partner since 2009, we have completed 800+ successful projects and achieved a 4.9-star customer satisfaction rating.
Connect with us on LinkedIn, YouTube, Twitter, and Facebook. Looking for insight or assistance regarding your Salesforce platform? Schedule a consultation below!
Written by Brian Mamassian, Salesforce Consulting Advisor