Last November, Microsoft got the chance to show off some of their newest offerings at the Industry Cloud Battleground Week, hosted by Cloud Wars.

Microsoft's Global Product Marketing Manager, Kees Hertogh, was pleased to discuss the ways that Microsoft Cloud eclipses their competitors by "infus(ing) our cloud with process flows and core business logic that help our customers address their pain points."

More than just a single product, the Microsoft Cloud encompasses a larger pool of cloud-based services, including Office 365, Azure and their additional products, and more recently, several LinkedIn commercial services.

But Microsoft hasn't stopped growing their offerings (and won't anytime soon). Looking ahead at 2022, this technological giant aims to launch several new services and optimize their existing ones. So, what can we expect?
Mesh for Microsoft Teams
The events of 2020 changed our technological landscape at a breakneck pace. Suddenly, co-workers and businesses were relying on digital communication to stay afloat. For example, Microsoft Teams users increased from 32 million daily active users to 44 million in a week. This jump in users caused Microsoft to jump into action to support all those new users.

Two years later, Microsoft continues to release new optimizations for Microsoft Teams. This year, we can expect to be introduced to Mesh for Microsoft Teams.

Mesh for Microsoft Teams intends to "bridge the gap between physical and digital worlds." With Mesh, users will have the chance to create lifelike avatars and interact with other users in 3-D environments. With more and more employees demanding the ability to work from home, Mesh allows users to remotely converse, collaborate and present information expressively, without turning on their cameras.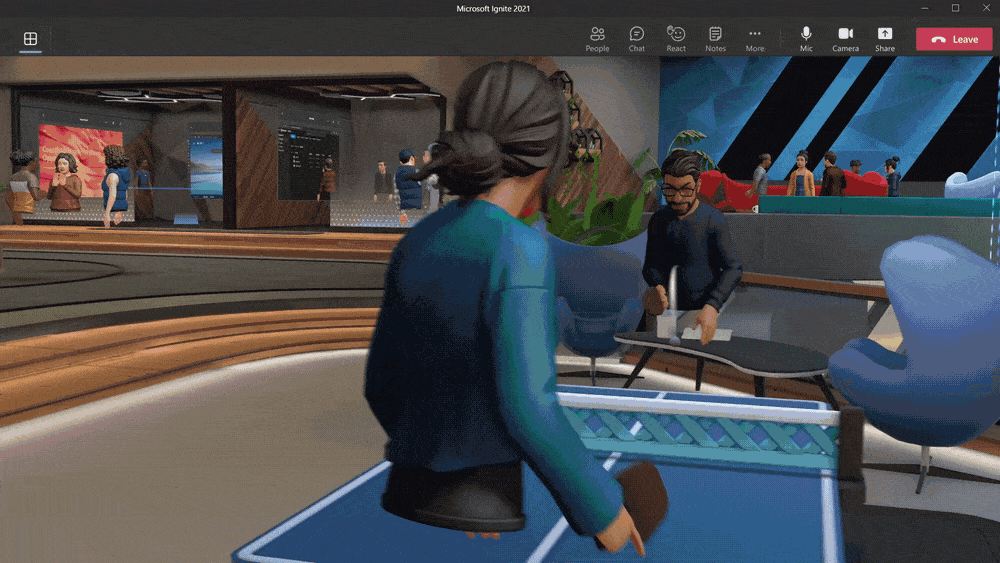 Source: Microsoft
Beyond building this new virtual world, Microsoft will also be adding additional features for their Teams users. For example, when scheduling, employees will be able to assign roles to eliminate confusion during presentations or meetings. Meeting hosts will also be able to see a list of people "raising their hand" in chronological order.
Vertical Clouds
Microsoft understands that different industries have different cloud software needs. That's why this year, they're continuing to build on their Industry Cloud Verticals. These are bundles curated for specific sectors and include the software, products, and services that business owners need.

These include Microsoft Cloud for:


Financial Services: Here, major Microsoft Cloud offerings necessary for financial institutions are synced, including Azure, Microsoft 365, Dynamics 365, and Power Platform. This vertical also includes additional vital functions, including risk analytics, remote sales and services, unified customer profiles, loan management software, and other automated processes.
Manufacturing: Business owners will have access to a manufacturing-specific, end-to-end cloud tool to initiate their digital transformation. With these tools, manufacturers, big and small, will have greater insight into their daily operations, additional automation abilities, and more.
Retail: This vertical gives retail employees a deeper look into customer profiles and analytics to provide a better customer experience. Business owners will also have the chance to build more responsive supply chains to meet growing demands.
Nonprofits: Microsoft focused on building a next-level collaboration tool for nonprofits, making organizing volunteering and program management even easier. Plus, they'll have expanded tracking abilities for efforts like fundraising.
Healthcare: The Healthcare vertical's goal is to enhance and expand how healthcare workers interact with their patients. Through the Microsoft Teams Electronic Health Record (EHR) connector, medical professionals can offer their patients more insight into their health visits and plans, increasing engagement. They'll also have the tools to expand operational insights and team collaboration.
Sustainability: The newest offered vertical is perfect for businesses concerned with their environmental impact. This cloud solution is made to better track a company's sustainability data and whether or not they're meeting their green goals.
Microsoft has demonstrated an interest in catering to the needs of individual sectors – expect these curated bundles to grow in the coming years.

AI at Scale
Artificial intelligence has become an all-encompassing umbrella term for all its potential uses. So much so it can feel a little overwhelming when trying to integrate its automated abilities into your business. Microsoft is working to change that.

One of their latest initiatives, known as "AI at Scale," focuses on helping businesses of all sizes get the most from their AI software and products. Microsoft is giving organizations access to "state-of-the-art large-scale AI models, training optimization tools and supercomputing resources" to ensure that they're able to use AI to its full potential. "AI at Scale" is also meant to be a more flexible option for AI, giving businesses more power over the development and scope of their software.

Microsoft describes AI at Scale's benefits as being three-fold:
Business owners will now have access to large-scale AI models or the ability to process considerably more data and automate typically more intensive tasks.
Business owners will be able to integrate AI at Scale with their existing Microsoft Azure products. For example, take Azure Cognitive Services and Search. These both have an extensive bank of language and question-answering abilities. AI at Scale, combined with these two pieces of software, allows businesses to increase engagement and user experience for their customers through automation, saving their employees time.
Businesses of all sizes now have the ability to train their AI software using the same software that Microsoft and Azure use. This is good news for more extensive and smaller companies, who can both customize the scale of this helpful infrastructure to meet the needs of their business and AI capabilities.
We can tell that Microsoft is constantly looking for ways to make their most effective services and offerings more accessible – even the technology they use for themselves.
Pricing Changes for Microsoft 365
Microsoft has also announced they will be changing the prices on commercial Microsoft licenses starting in March of 2022. This will be the first time they've changed the price in the last decade. In that time, they have added 24 apps, including Microsoft Teams and OneDrive, and released 1,400+ features and capabilities focused on enhancing communication, collaboration, security, compliance, automation, and artificial intelligence.
In addition to the changing licensing prices, Microsoft is also removing dial-in charges for Microsoft Teams, allowing users to join meetings by calling in on their phones.
New Pricing Breakdown
Microsoft 365 Business Basic; increase from $5 to $6 per user
Microsoft 365 Business Premium; increase from $20 to $22 per user
Office 365 E1; increase from $8 to $10 per user
Office 365 E3; increase from $20 to $23 per user
Office 365 E5; increase from $35 to $38 per user
Microsoft 365 E3; increase from $32 to $36 per user
There will be no price change for education or consumer licensing at this time.
This Microsoft blog provides more details about the upcoming price changes.
An Exciting Year Ahead
With so much to expect (and likely, even more to be announced) Microsoft continues to step out front as one of the largest, most popular cloud services & business tool providers in the market. Their broad range of services, reliability, and security measures are why our team chooses to work with their platform and recommends it to our clients.

Are you looking to level up your Microsoft Cloud abilities this year and get the most from your subscriptions? We're here to help. Contact us today to talk to an expert.