It's been an eventful start to 2020 for Microsoft, including the end of Windows 7 and an update to Windows 10 that has left up to 900 million users in a buggy and turbulent state of affairs.
In the wake of Windows 7, Microsoft has started sending strongly worded, full-screen upgrade warnings to all Windows 7 Home Basic, Home Premium, Professional and Ultimate users. These warn that they'll no longer receive security updates, software updates or tech support and recommend users update to Windows 10 on a new PC for the latest security features and protection against malicious software.
Likewise, users on the Windows 10 software have encountered a major update bug and lingering issues from previous updates that present blue screens for a variety of reasons. From a broken file explorer to antivirus software blocking updates, businesses using Windows 10 are accruing serious downtime due to maintenance and updates.
For small and mid-sized businesses (SMBs) who can't afford to buy new computers to solve a software issue, regardless of your operating system there are cost-effective ways to troubleshoot these issues. We've collected a few options for how you can update your systems to avoid downtime and avoid costly hardware updates.
Windows 7 Users
The blue error screen Windows 7 users are experiencing is a stark and potentially expensive warning from Microsoft.
These threats are very serious and the lack of any future updates means Windows 7 is now the number one target for hackers worldwide because they know the holes they find will not be patched. Because of this, it's no longer a safe place to store personal or company data.
The good news is all Windows 7 users with a genuine license key can still upgrade to Windows 10 for free, despite Microsoft claiming free upgrades ended in 2016 and charging prices starting from $139.
If you can't afford new PCs for your entire organization, Forbes' Gordon Kelly created steps to Upgrade To Windows 10 For 'Free' In 2020:
Tip: if you don't have one, you can buy a legal copy of Windows 7 or Windows 8 at third-party retailers for a fraction of the cost of a Windows 10 license. Home licenses update to Windows 10 Home and Pro licenses update to Windows 10 Pro, so choose carefully.

With that caveat out the way, here's how you get your Windows 10 free upgrade:

Click on the Windows 10 download page link

here

Click 'Download Tool now' - this downloads the Windows 10 Media Creation Tool.

When finished, open the download and accept the license terms

Choose: 'Upgrade this PC now' then click 'Next'

Choose 'Keep personal files and apps'

Click 'Install' (note this takes some time and involves multiple restarts)

Once installed, open: Settings > Windows Update > Activation to activate your Windows 10 digital license...

OR enter your (genuine) Windows 7 or Windows 8/8.1 product key if you haven't previously activated your old version of Windows

If you'd like to check if your license has successfully been activated afterwards, open: Settings > Update & Security > Activation.

Note: a Windows 10 license is tied to your hardware. As such, if you need to format your computer for any reason Windows 10 will reactivate automatically.
Windows 10 Users
Windows 10 has a history of system-wide errors. Most recently, users were impacted by an update released on January 28, 2020, when the optional Windows 10 cumulative update KB4532695 causes various instability problems and critical blue screen errors.
Other users have also experienced problems with audio, Bluetooth connectivity and drivers. The latest optional Windows 10 patch KB4532695 was released as a fix to bugs that appeared in a previous update, where users complained of search problems in File Explorer.
Unfortunately, the latter patch fails in its main task of solving the problems of File Explorer. Instead it has contributed to the emergence of further errors.
The reasons why we get the blue screen of error are many. But in the case of KB4532695, the most likely culprit is found at the driver level, perhaps due to incompatibility, internal error or parts of the registry system damage.
Generally, these errors are also because of hardware and software problems. Usually, they occur when the operating system cannot correctly solve a specific problem. In short, it is important to understand that there is no single cause for each blue screen.
Microsoft has promised to make fundamental changes to improve Windows 10 updates and some of those improvements are rolling out now.
However, for SMB decision-makers who have grown tired of waiting for Microsoft to fix these issues, there's hope to revert your Windows 10 update and get your machines back in working order.
Typically, it's considered a best practice to keep your systems up to date but the continued issues with Microsoft software updates have many companies questioning such tactics.
How to Roll Back Windows 10 Updates
The best solution for businesses to keep machines operational is to uninstall the Windows 10 update KB4532695 and wait until Microsoft releases a corrective patch.
Fortunately, KB4532695 is an optional update that you install only when you manually click on the 'download and install' option. Therefore, avoid installing it if you have not already done so.
After every major update, Windows 10 gives you a ten-day window to roll back to a previous version of Windows. It's a useful feature and should give you enough time to judge whether you have a problematic update. Of course, this won't recover your files if Windows 10 deletes them, so be sure to back them up on your server or in cloud storage before moving to the more stable version of the OS.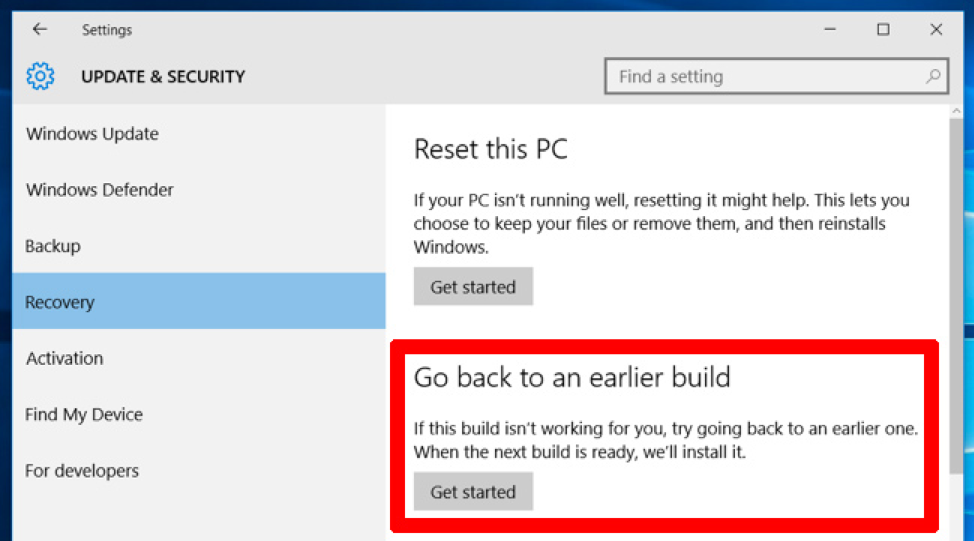 To do this, go to Windows 10 Settings, then click "Update & security -> Recovery." Below "Reset this PC" you should see the option to "go back to the previous version of Windows 10." Click "Get started," then follow the steps to roll back Windows 10. Again, this option is only available for ten days after a Windows 10 build update.
Company-wide Audits
For the time being these issues present affordable workarounds but that may not always be the case. For many businesses who are affected by Windows' operating system errors, it's important to act quickly to maintain a secure IT environment.
As Microsoft provides one of the world's most used operating systems, businesses need to perform full inventory assessments of their hardware, software and affected devices. An IT and security audit will help assess risks and patch vulnerabilities system wide.
An IT audit will help ensure your devices are adequately protected, provide reliable information to users and properly managed to achieve their intended benefits. Audit's include everything to help you assess out-of-date technology unequipped for new challenges, new technology that hasn't been reviewed for risk, software firewalls and hardware assessments and data backups.