There are several platforms that can help your organization create a modern contact center to improve customer satisfaction.
At Ascend, we not only help companies implement modern contact centers, we are a user of the Amazon Connect solution.
Real World Pricing for the Modern Contact Center
While technology deep-dives and market research analysis are helpful, I thought it would be interesting to get down to brass tacks and walk through a sample scenario using pricing data direct from the AWS Pricing Tool. Hopefully, with this real-world pricing data, you can gain a better understanding of how much your organization could save.
Remote Working and the Contact Center
For this pricing example, let's look at a fictional healthcare organization.
50 agents

3 discrete contact center teams

>

50

% of agents

working remote

30

effective distributed contact center locations
This example organization has 50 active agents and started the year with three discrete contact center locations. With over 50% of their staff now working from home due to COVID-19 response measures, that organization was forced to adopt a distributed contact center model overnight (common for many organizations this year). Using Amazon Connect as their contact center tool, they are able to maintain agent stability and client satisfaction through the transformation.
What Does it Cost?
What would the real world, under-the-hood costs be for that example organization? And how does the cost to manage that tool play in?
Let's take a look!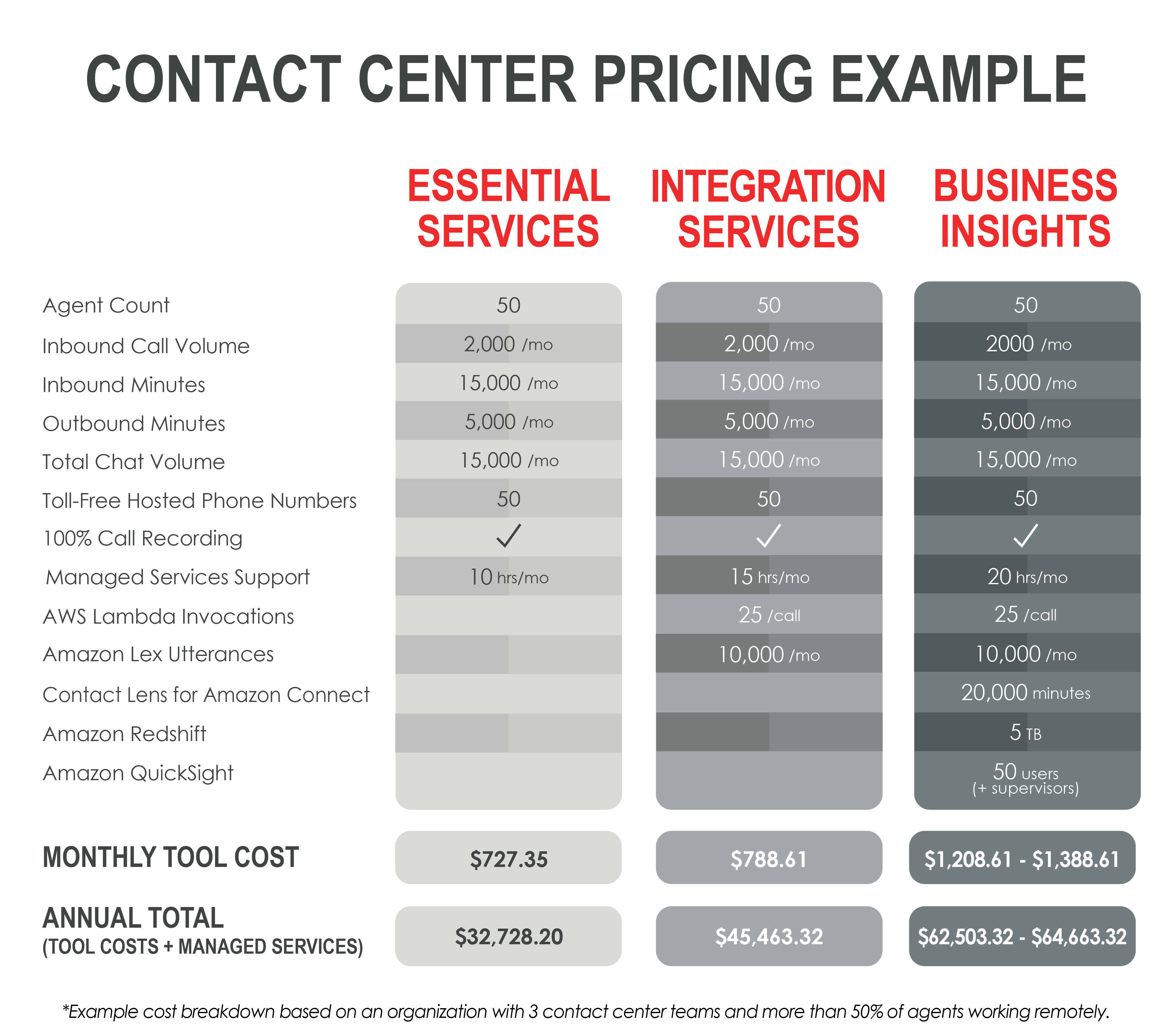 With Amazon Connect's integration capabilities and the benefits of additional Amazon tools like Contact Lens, Redshift, and QuickSight managed by AWS-certified experts, it's easy and affordable for organizations to incorporate key business intelligence features into their contact center design.
What Can You Save?
This is one example of what a modern contact center could look like. It is easy and fast to get an idea of what your modern contact center solution can save you. Having worked with numerous organizations that had previously used traditional contact center solutions, the cost savings and customer satisfaction improvements have been remarkable.
Get Your Customized Quote
Here at Ascend Technologies, we would be happy to provide you with a glimpse into the savings and improved integration and customer responsiveness you can see from a new, modern approach to your contact center environment. Fill out this short quote request form and we will provide you with a no-obligation quote that will give you a point of reference to see if Amazon Connect could provide you with a modern contact center experience your customers will rave about.
By Stefan Kovacs, Senior IT Operations Manager